Bring Back Your Prepregnancy Waist Line!!
After you have given birth, your stomach has a kind of deflating, and you're left with this jiggly bag. It feels really bulky and uncomfortable. Sometimes, when you don't have a core power, it's normal to overcompensate your back while you're moving about. It can lead to some pretty bitter back pain in the first few weeks! 
The Postnatal Support Belly Belt with the new triple compression will help you get back to your pre-pregnancy dresses faster. What we think is the most important thing is that it will give you the confidence that you've lost for months or years when you see your stomach tense up. Only start wearing it if you feel relaxed after delivery and see the magic of the Postnatal Support Belly Belt. '
Adjustable & Good for Mothers: You can easily put it on yourself and the pull is equal on both sides, you can adjust how tight you want it without removing the band to keep you supported for a long time. Is it a great gift for women just after giving birth or for someone who had surgery, resulting in loose skin and back pain? 
Outstanding Support: If you're going through vaginal birth or c-section, your pelvis has widened to get you ready for work. Using the pelvis band to put the pelvis back to form. Postnatal belly wrap & abdominal binder will help support your back, minimize back pain and help hold your baby in good posture when breastfeeding. -The postpartum healing of the belly brace.
Strong & Breathable: Made of stretchy, breathable and lightweight fabrics. Flexible, breathable, and easy to clean. It doesn't roll up, so it can be worn underclothing. The postnatal belly belt is made of polyamide and elastane, Ultra-breathable in four seasons! 
Medical-Grade compression: Our Postnatal belly belt forces the abdominal muscles and the internal organs to "relaunch" and function together perfectly. 
Recover Perfect Body Faster: Your body has just performed a miracle, it's time to get your body back in shape. Our Postnatal Belt helps to tuck your uterus in, which helps to compress your womb down to pre-pregnancy size while helping your other organs to get back to pre-pregnancy.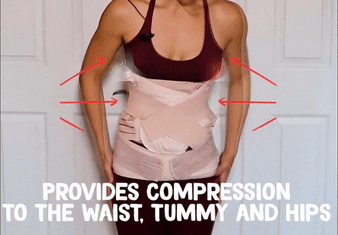 Undercover Design: Almost invisible beneath the clothes. Slip in and out quickly without any additional support.
Doubles As a Full Silhouette Fix: Keeps the unsightly bulges pulled in. It prevents stretching pregnancy marks from developing.
No Back-ache: stimulates deep pelvic contractions that end back pain and provides significant help during back-feeding.
Stomach belt: Shrinks the abdomen and abdominals halfway back to normal. Provided 1-7 days after birth or c-section.
Waist belt: Flattens all the mid-sections. Relieves back pain. Recommended 1-6 weeks after birth or c-section.
Pelvic belt: Speeds up pelvic contractions reboots and restores optimum muscle and organ function.
Materials & Care:
Fabric: Acrylic

Washing instructions: Hand wash only. Do not iron.
Package content:
1 * 3 In 1 Postpartum Girdle Support Recovery Belly Wrap Belt
3 in 1 Postpartum Girdle Size Guide
Measure the waistline at the narrowest part without adjusting too much, measure the hip contour at the widest part without adjusting too much.
If you find yourself in-between sizes, size down for a firm fit or size up for a more relaxed fit.
In Inches
| Size | Bust (in) | Waist (in) | Hips (in) |
| --- | --- | --- | --- |
| M | 40.2 - 42.5 | 31.5 - 33.5 | 42.1 - 44.1 |
| L | 42.1 - 44.1 | 33.1 - 35 | 43.7 - 45.7 |
| XL | 43.7 - 45.7 | 34.6 - 36.6 | 45.3 - 47.2 |
| 2XL | 45.3 - 47.2 | 36.2 - 38.2 | 46.9 - 48.8 |
In CM
| Size | Bust (cm) | Waist (cm) | Hips (cm) |
| --- | --- | --- | --- |
| M | 102 - 107 | 80 - 85 | 107 - 112 |
| L | 106 - 112 | 84 - 89 | 111 - 116 |
| XL | 110 - 116 | 88 - 93 | 115 - 120 |
| 2XL | 115 - 120 | 92 - 97 | 119 - 124 |
Shipping
- Shipping methods: How do You ship? (Carriers & postal service)
We ship with well-known carriers like Australia Post, Amazon Logistics, Yodel and other overseas methods for certain items so you can rest assured that your order will be delivered safely, on time and securely.
- Estimated Delivery Dates :
Delivery time depend on which Product You are ordering and on which shipping method available during checkout ( subject to availability ) 
Shipping With Tracking : 5.99$ For Orders less than $40, Delivered 7-10 days . 
Free Shipping With Tracking : Free Shipping for orders above $40, Delivered 7-10 days . 
- Processing times
We will not keep you waiting; all your orders are instantly sent to our fulfillment centre once placed, where they are processed and dispatched.
 > For more details visit our Shipping Policy page.
Returns
Our Return Policy lasts for 30 days , starting the date the order was placed , To be eligible for a return, your item must be unused, unworn and unwashed and in the same condition that you received it. It must also be in the original packaging. All we ask when you receive an order is that you try it on (with panties or underwear), for hygienic reasons, we cannot accept used items.
 > For more details visit our Return Policy page.